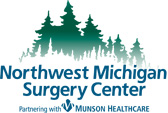 4100 Park Forest Drive
Traverse City MI 49684
Phone: 231.392.8900
Fax: 231.392.8973
Northwest Michigan Surgery Center, a group of 25 local physicians, in cooperation with Munson Medical Center, has built a state-of-the-art surgical care center. This facility services the expanding outpatient needs of the Northern Michigan and Eastern Upper Peninsula communities.

The Surgery Center offers outpatient elective surgeries not to exceed a 23-hour stay. Emergency surgeries continue to be performed at Munson Medical Center. Ambulances with active sirens do not visit this center.

The Surgery Center serves patients from up to 100 specialty physicians and surgeons. Typical services provided are Orthopedic, Plastic Surgery, Ophthalmologic, General Surgical, Gastrointestinal, Ear Nose &Throat, Foot/Podiatric, Urologic, Gynecologic and other specialties.

This facility is comprised of six operating rooms, six procedure rooms, sixteen recovery beds and six 23 hour stay beds. The two-story building combines the 45,460 sq. ft. Surgery Center on the main floor (expandable to 55,000 sq. ft.) and 33,630 sq. ft. of Medical Offices on the 2nd floor.

The addition of this facilty to our community allows Munson Hospital and Physician groups to recruit seasoned specialists to our area.